Start
March 13th, 2023 See Calendar
Duration
1 academic year
Credits
60 ECTS
Exams
Continuous evaluation + Online exam at the end of the Master
Methodology
100% online education
Internships
Experience recognized
Why study an MBA at UNIR?
Recognized by the European Higher Education Area (EHEA), UNIR is a member of the following leading international business organizations: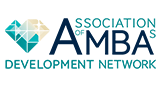 Adapted to your work experience and professional goals, this degree will give you a comprehensive vision of global business, including:
Knowledge of strategy, accounting and finance, marketing, sales, human resources and technology.
Managerial and negotiation experience in strategic decision making, project development, negotiation and team leadership.
Practical expertise through the case methodology, allowing you to learn by analyzing real cases from different markets.
Entrepreneurial mindset to develop new projects and follow the globalization process in international markets.
Digital expertise to create new business models for the digital environment.
This official master's degree qualifies graduates to enter official PhD programs and to earn postgraduate-level points for civil service exams, and competitions for employment in Public Administration. Once the master is successfully completed, you will obtain UNIR's Máster Universitario en Dirección y Administración de Empresas/Master in Business Administration (MBA) Certification.
Approved by the University Council 01/06/2012.
Achieve your Diploma in 'Leading People' from the Harvard ManageMentor program.
Learn how to lead people in an effective and inspiring way. Gain the skills to motivate teams, build positive relationships and guide them to achieve results. You will learn how to create an environment where everyone can perform at their best and thrive in their role.
This diploma certify you in one of the six modules of the Harvard ManageMentor 'Leadership Certificate', which enables you to acquire the competencies to lead and assume managerial roles.
UNIR AND HARVARD MANAGEMENTOR
Harvard Business Publishing Education (HBP) collaborates with UNIR so that our students can benefit from the Harvard ManageMentor program, a set of interactive online certifications and diplomas. These qualifications will enhance your profile to fit the demands of today's job market.
Other information of interest
Check the frequently asked questionsSEE FAQS
Current Application Period:October 31st, 2022 See Calendar
Related Degrees
If you are interested in this field of study, we recommend the following related degrees offered at UNIR, which you may also find of interest: